OUR Generation, OUR Play, OUR Legacy
March 31
@
10:00 am
–
2:00 pm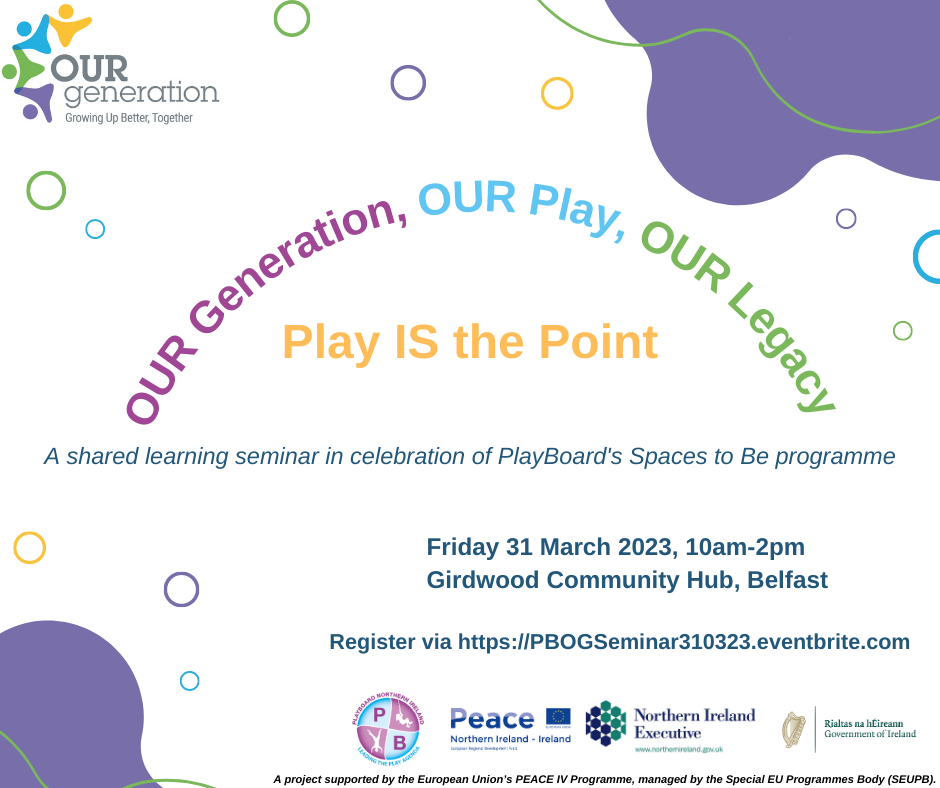 A shared learning seminar showcasing the impact and legacy of PlayBoard's Spaces to Be programme, delivered as part of the OUR Generation project.
Over the past three years, PlayBoard has delivered our Spaces to Be programme in schools and childcare settings within the Urban Village Areas in Belfast and Derry/Londonderry.
Through PLAY, we have supported children in building resilience and understanding and managing their emotions, supporting their overall mental health and well-being. The project has also supported children to become diverse thinkers by being accepting and inclusive of other communities and cultures.
The seminar will feature impactful talks, testimonials, and a live Q & A.
The event will run 10:00am to 1:00pm, followed by a networking lunch.
There will be an opportunity for organisations to showcase their work at a networking stand during the lunch – numbers are limited and available on a first come, first served basis when registering.
Everyone with an interest in our work is welcome to attend, and we would particularly like to encourage OUR Generation and PlayBoard stakeholders to join us.
OUR Generation is supported by the EU's PEACE IV programme, managed by SEUPB.