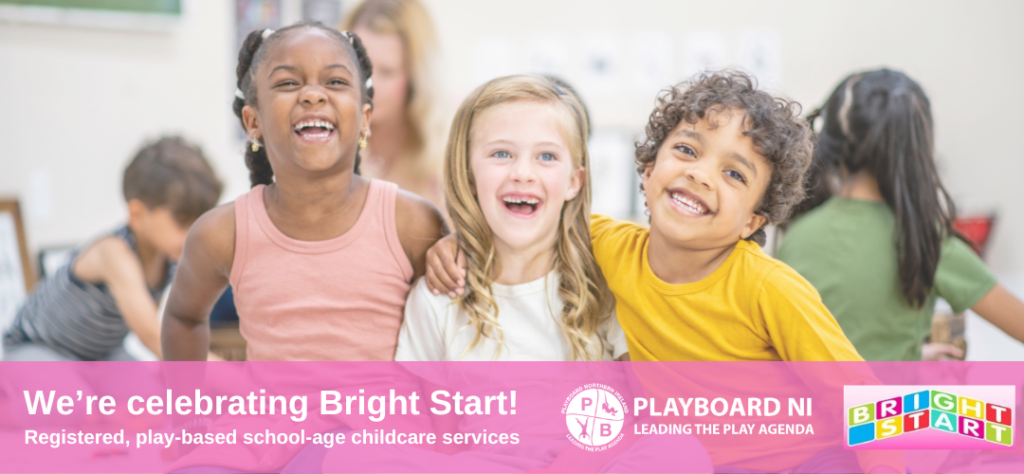 PlayBoard's regional campaign celebrates the importance of School-Age Childcare providers and the services they provide.
Childcare settings offer an essential service for parents and families. Children who attend after-school settings are cared for by dedicated staff who prioritise play and allow children the time and space to connect with friends whilst enjoying a wide range of playful, fun opportunities.
Our campaign culminates in a day of celebration on 20 November, World Children's Day, with childcare providers across Northern Ireland getting involved in their settings to highlight the positive difference they make locally.
---
Watch our World Children's Day video below with contributions from the Chief Medical Officer, the Mental Health Champion for Northern Ireland, the Commissioner for Children & Young People, and more.
---
Discussing the campaign, Alan Herron, PlayBoard Chief Executive said:
"PlayBoard delivers support and training to the School-Age Childcare sector across Northern Ireland whilst also providing targeted support to groups who are funded through the NI Executive's Bright Start School-Age Childcare programme. With work ongoing on the development of the Early Years and Childcare Strategy, we want to ensure that the essential service provided by our School-Age Childcare settings is acknowledged and celebrated.

Over the past few weeks, we have been sharing feedback from parents, childcare staff, and the children themselves to highlight the importance of the play-based care provided. Childcare settings play a special role in offering quality play opportunities which are crucial for the healthy development of children and young people. Children learn through play and develop a wide-range of skills including creativity, resilience, confidence and social development, as well as making new friends, helping to create cohesive communities."
Mairead McMullen, Western Childcare Partnership Manager, Bright Start Lead (SPPG) commented:
"Bright Start, the NI Executive's Programme for Affordable and Integrated Childcare has invested over £8.5 million pounds which focused on supporting the School-Aged Childcare sector. This investment recognises the critical role that Bright Start groups play in supporting the development and well-being of school-aged children, particularly in areas that need it most. These groups are embedded within local communities and offer parents a range of diverse and flexible high-quality childcare options that are accessible and affordable.

As we celebrate World Children's Day, we must celebrate the invaluable role that Bright Start groups have played in providing enriching play environments for children, and the opportunities they offer for social and emotional development, and improving outcomes for school-aged children."
PlaySense in Newtownabbey is one of the settings taking part in the campaign. Donna Johnston, Operations Manager, explained:
"PlaySense is an afterschool service in Newtownabbey that offers bespoke play opportunities for school-aged children with sensory loss, complex disabilities and/or medical needs in the local area, helping children to develop social and emotional skills, meet new people and have fun. Sense provides highly-trained staff who deliver this important service, and without it many parents or carers would need to take time off work or give up work completely. Without PlaySense, disabled children in Newtownabbey simply wouldn't have access to this specialised support."
Peter Johnston's daughter, Éabha, has attended PlaySense for a number of years. Peter said:
"When we first spoke to Sense it was really important for us to get a good understanding that her requirements were going to be met from a sensory point of view and from a medical point of view, and they really gave us that confidence from the get go. … It was really important that we knew we were putting our child into an environment while we were at work that she was going to be safe and looked after the same way she would be at home. … Sense is a home from home for us.

From a play point of view and from a developmental point of view, we know that she loves it and she comes home tired every day, she comes home happy because she's been in an environment with other children with similar needs. All the guys that work there and all the people that look after Éabha on a daily basis are absolutely brilliant, we can't thank them enough for what they do for her every day when she's not with us."